My head still hurts from the amount of tears that I cried. I have never been so impacted and affected by a series as the Ember in the Ashes quartet; it means the world to me and the fact that it is now over is something that I still haven't fully accepted.
This review is going to be spoiler free until the very end, so even if you haven't read any of the series yet it will be okay. The spoiler section at the end will be marked so you don't read it on accident.
Rating: ☆☆☆☆☆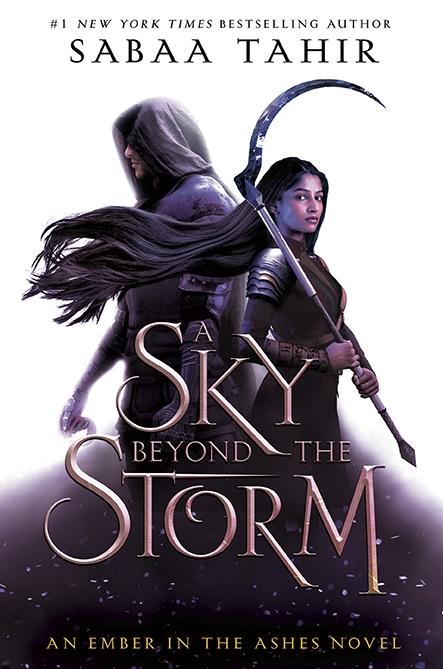 Title: A Sky Beyond the Storm
Author(s): Sabaa Tahir
Published: December 1st 2020 by Razorbill
Genre(s): fantasy, young adult, high fantasy
Read as: Physical copy
(Synopsis from Goodreads)
Prepare for the jaw-dropping finale of Sabaa Tahir's beloved New York Times bestselling An Ember in the Ashes fantasy series, and discover: Who will survive the storm?
Picking up just a few months after A Reaper at the Gates left off…
The long-imprisoned jinn are on the attack, wreaking bloody havoc in villages and cities alike. But for the Nightbringer, vengeance on his human foes is just the beginning.
At his side, Commandant Keris Veturia declares herself Empress, and calls for the heads of any and all who defy her rule. At the top of the list? The Blood Shrike and her remaining family.
Laia of Serra, now allied with the Blood Shrike, struggles to recover from the loss of the two people most important to her. Determined to stop the approaching apocalypse, she throws herself into the destruction of the Nightbringer. In the process, she awakens an ancient power that could lead her to victory–or to an unimaginable doom.
And deep in the Waiting Place, the Soul Catcher seeks only to forget the life–and love–he left behind. Yet doing so means ignoring the trail of murder left by the Nightbringer and his jinn. To uphold his oath and protect the human world from the supernatural, the Soul Catcher must look beyond the borders of his own land. He must take on a mission that could save–or destroy–all that he knows.
Review
Fair warning: This is going to be all praise, I don't have anything negative to say about this book or this series, and this is going to be a long review. I have a lot to say. Quick shoutout to Sam because she's been waiting for me to finish this for like forever!!
Writing this review took me so long because I wanted to get it perfect, which I now realize is impossible as there is no possible way for me to capture and communicate the multitude of feelings and emotions that this book, these books, put me through. I'm just going to try my best and if I think of something later, I'll just add it in.
I mean, just look at how any quotes and passages I marked: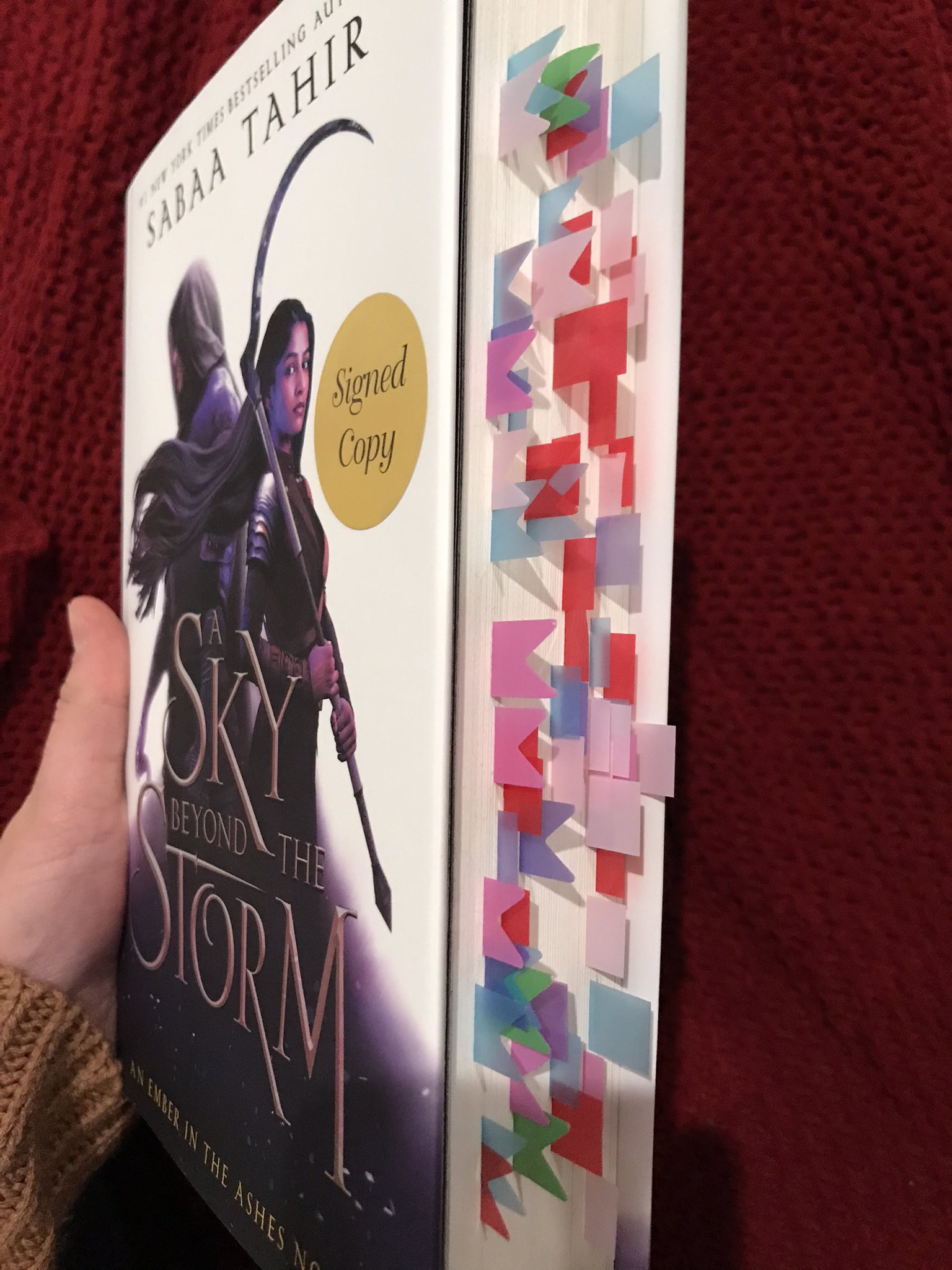 First off, I want to give a huge thanks to Sabaa Tahir for being such an incredible writer. This story has lived rent free in my mind for the past few years; I read Ember in 2016, and then Torch and Reaper as soon as they came out and I didn't stop thinking about them the whole time. These characters are larger than life, and they mean everything to me.
I knew that I loved this series after just reading the first book, but by the second one I was fully head over heels in love and invested in the tale and the fates of all these characters.
I cannot think of a better conclusion to this series (though I would have preferred a couple less deaths lol. (More on that in the spoiler section.) Tahir managed to craft an explosive and fulfilling ending to a truly enthralling series. There were so many threads to weave together, and she did so masterfully.
Each character was treated with care and consideration for their personal growth and journey. No one was neglected, or written off, or made to seem like their arc didn't matter as much. Our three POVs were equally captivating.
I love Sabaa Tahir's writing. It is truly original and unlike any other.
Every page, every sentence, every word is intentional.
She puts so much thought into everything she writes it's like that ink on that paper is sacred. Her care for this story shines through the page and brings this world to life in the most beautiful and heart wrenching way. I haven't even been this affected by actual things that have happened in my real life.
The books stand apart as individual stories but also flow and meld together into one overarching story perfectly. The balance between being plot driven and character driven is done so well in a way that I have genuinely never seen before in a series.
Elias and Laia. Oh, Skies, Elias and Laia. Their moments together were minimal, but that just makes each one so much more meaningful. I have never wanted two people to get together so much. I've also never been so pained by two people who can't seem to get together because every possible hurdle is being thrown at them.
He says nothing, only rises and melts into the night. The space he leaves is vast, that gnawing loneliness of showing your heart to someone only to find they never wanted to see it.
I also want to touch on the real-world inspirations for this book. I am going off of what Sabaa herself has said and observations I have had through my own reading, but I think it is so powerful the parallels that Sabaa draws between this fictional world and the ongoing conflicts of reality. This is clearly a book about war and injustice (among many other things), and I have my own thoughts about which ones specifically, but Sabaa crafts such a poignant narrative about oppression, brutality, and the abuse of innocents. There are many instances where I cried at the events in the story, at the things being done, because I knew they were based on horrible acts that actually happened. That happen. There are so many layers and levels to the story, and the implications are vast. It's why I believe this series is worth a reread, and I highly recommend you check out some articles where the author speaks about where she drew inspiration from. If anyone is interested let me know and I can link them.
Lastly, I need to talk about the representation.
This is one of the larger reasons this series means so much to me. I am so glad that I have gotten to meet Sabaa a couple of times and tell her personally; this series is the first time I saw myself represented in fantasy. The cover alone, seeing a brown girl on a fantasy cover meant everything. Reading about Elias making korma, stories of jinn I grew up hearing, seeing those Urdu words, all the South-Asian representation, and written by a Pakistani, Muslim author…I don't even have the words. It means everything.
As far as the non spoiler section goes, I'll wrap things up by saying this: please read this book. It is beautiful and powerful and important and immersive. It will make you cry but I promise it's worth it, every single book is incredible and you won't regret picking these books up.
SPOILERS AHEAD!!!
STOP!!!
IF YOU HAVE NOT READ THE BOOK YET DO NOT PROCEED, DO YOURSELF A FAVOR AND GO PICK UP THE BOOK!!
FINAL SPOILER WARNING!!
Holy shit. If you guys are reading this that means (hopefully) you've read this book. And can we talk about it please!!! The mango scene!!! Elias and Laia!! Musa!! DARIN! AVITAS! FARIS!! Helpppp!!! I'm gonna start crying again.
Also, those instances of purple imagery throughout. Did anyone notice that???
Okay, I'm getting ahead of myself. Let me back it up a little.
The overarching message of HOPE in this series is something so prevalent and powerful, and I just think the way that Sabaa integrated it into her story, even throughout the horrible things going on, was extremely impressive and truly masterful.
The world's not only full of bad things, you know.
Let's talk about the characters:
Elias
is the embodiment of hope. Hope for a better future and world where people don't always retaliate. Hope for peace, especially in how he doesn't want to kill the jinn.
But when the Tribespeople see me, many of them stop what they are doing, hope dawning in their eyes.
The way that people look to him, the faith they put in him, is so powerful. Even as I was reading the climax of the story and terrible things were happening, I kept waiting for Elias to swoop out of nowhere, and appear on the page to save everyone. That is just the kind of faith that he inspires, because he is such a strong and admirable character. Elias is hope that selflessness wins. Yeah, I love him. Elias Veturius, king of my heart, body and soul. My standards for men have soared, they are now entirely unmeetable. Thanks a lot, Sabaa.
How much pain exists in the world because we cannot get past what has been done to us, because we insist on inflicting pain right back?
Helene
is hope that even after horrible suffering one can persevere, that even though one may have done and thought incorrigible things, it isn't too late to TRY to make amends. Whether people accept our repentance or not, we still MUST seek out forgiveness and attempt to move forward. I must admit, I didn't forgive Helene as quickly as I saw a lot of other readers do. By the second, and even the third book, I found it difficult to look past her ideology and her justification of the treatment of the scholars. While she was written to be more of a sympathetic character, especially in the third book with all that she went through, there were still these moments when she seemed to think that the Scholars were 'lesser than'. However, in this one (Sky) she really seemed to finally see the true error of her ways.
Is it a Scholar child? A Martial?… It doesn't matter. The knowledge rolls over me like an ocean wave after an earth tremor, ruthless and unending. It doesn't matter because it was a clife cut down too early.

Laia of Serra knows this. All her pent-up rage at what was done to her people — and I never understood it until now. I thought I served a great cause: protecting the Empire. But all I did was protect people who were never in any danger.
Should we forget what she's done and what she's believed? No. I don't think so. Can we forgive? …maybe. Helene is hope someone can break out of the norm and the expectations set for them. I do think that she will make a good and just Empress.
Laia
is hope that courage can be enough. That one can overcome the cowardice of their past and rise above their circumstances, her being a Scholar. Laia's character development was, in a word, sensational. It was realistic and complex and beautiful and so, SO well-written. She didn't do a full 180 or anything, because she didn't need to. She always had that strength, it was within her. But she really grew into her confidence and became a stunning symbol of light and strength, and I loved reading about her personal journey. The parallels! Where she had the chance to run, but unlike when she fled in the first book, this time she stayed to fight. That was so powerful I literally had to close the book because I started crying.
Would that we all knew the cracked terrains of each other's broken hearts. Perhaps then, we would not be so cruel to those who walk this lonely world with us
Can we please talk about Faris?? He never got to see Elias again! I'm so fucking sad!! And Avitas and Darin! They both died in the same way, in an attempt to protect and help the women they loved most in the world. That broke my heart!!!
The fact that Laia began the entire series trying to save Darin, only to eventually lose him???? We began this journey as a mission to break him out of Kauf, and the books end with his death??? I am so sad!! I trust Sabaa Tahir, and I know there's a message in there somewhere, but God, I am too emotional to look for it right now.
Since this review is getting too long, here are some quick mentions of the moments that I loved, found powerful, or made me laugh or cry: (in chronological order)
Laia and Helene complaining about men
Laia feeling a 'fierce pang of longing' for Elias
Tas wanting to ask Elias what he thinks when he doesn't know he's Soul Catcher
Every time Elias looked at the armlet
The first time Elias' full name was written
Moments of Elias and Helene falling back into camaraderie like nothing changed
When Tas says Elias would keep fighting until he brought Laia back
Laia saying Elias wouldn't like it if she tackled him and Elias thinking maybe he would
Elias catching a glimpse of Laia's skin then abruptly turning to the 'infinitely less interesting' treetops
Laia putting a blade to Elias' throat
Every time Elias tells Laia to call him Soul Catcher…then when he finally says call me Elias!!!
When Quin Veturius shows up
When Spiro Teluman shows up
Helene wanting her mask so it's easier to talk to Harper
Faris saying Quin being with them is almost like having Elias back
Laia thinking Rehmat is male because of its obduracy
The little girl smiling at Elias because he gives her hope
Elias calling Laia "an ember ever burning".
The fact that Elias is so powerful, such a force, that the Nightbringer had a whole plan to keep him busy and not fighting.
Elias saying it feels wrong to see Laia sad and not give her comfort
Helene telling Harper not to waste words telling her shit she already knows
Helene not giving a damn about the stupid rules of honor and killing Grimarr
Elias saying watching Laia is like 'watching a waterfall thundering down a gorge'!!!!
Helene calling that guy a 'cowardly pissant'
All the foreshadowing!! Ouch!!!
It being mentioned that Elias fights every battle alone and then three pages later says the same thing about Helene
Elias finally seeing Quin again
Elias saying that he wants to memorize Laia and "the music of her laugh" and "the poetry of her body"
Elias and Helene fighting together and then joking mid-battle
Elias roasting the shit out of Helene on page 403!!!
Helene reminding Karinna of Keris
Musa tripping Laia and Elias trying to catch her from across the room
"your mistakes only define the rest of your life if you let them. don't let them."
"together as one at last" if you know you know 😉
EMIFAL FIRDAANT
Darin believing in Laia
Mirra calling Elias her future son-in-law
"Nur gleams with thousands of lamps"
LET'S TALK ABOUT THE ARMLET FOR A MINUTE!
When Elias gave Laia the armlet to propose to her! *screams* I lost my mind. That was everything. That was the perfect way for him to reveal it to her. This symbol of the flicker of the relationship between the two of them even when he had no recollection of who he was. He still had this tiny glimmer of her. He always remembered a part of her. He was carrying it around for the entire fourth book, for part of the third book, and he finally gave it to her to solidify their future together, to make their relationship permanent. That is so powerful. I just — they literally make me cry. So much pining and angst, and finally, finally, they get to be together. I am so glad they both got the freedom they always wanted and deserve.
Some quick thoughts to mention: I really thought one of the three was going to die. Helene being Empress seemed to be destined from the first book, when she told Elias she wanted to win and he could be her Shrike. The fact that Elias never got to reunite with Faris makes me sad. The fact that he only had one conversation with Avitas!!! I was really hoping that they would get to be brothers and live happily forever. I am very stupid for thinking that was a possibility lol.
Elias and Laia ending at the Moon Festival!! And this line: "It is the darkest hour of the night. When even ghosts take their rest."
Oh my God!!! The fact that the series started with that line, and now it's at the end of the last book. Don't talk to me I'm emotional.
I want to talk more about character analysis, themes of the series, symbolism, as well as a few other things, but I think I'm going to be doing a full series review soon to go more into depth of some of those topics. If I tried to touch on all of that here it would be far too long (as though it isn't already) so I'm going to go ahead and wrap up this review here. I highly recommend you check out the caption of the post I have linked below, it is beautiful and honestly a little emotional, and I don't know I just thought about it so go check it out. Also follow Sabaa on instagram she's funny and sometimes she makes vegetables talk.
I'll end this review with words I tweeted the day after I finished the book:
Sabaa Tahir is such an incredible, brilliant, talented writer and I am so thankful to have read her work. I am so thankful that her words are in the world because this series means everything to me and even though it shattered my heart (several times) I love it so much. This series was a beautiful and heart-wrenching journey and it means the world to me. While I shed many tears, it ultimately was a tale of hope and courage and sacrifice. Thank you Sabaa Tahir for gifting it to the world. I'll never forget these characters.
These books have my heart.
If you've read this book, please, PLEASE, let's talk about it in the comments!!! I want to discuss this amazing novel and this amazing series and everything that happened. Do you agree with what I've said? Is there anything you disagree with? Let me know and let's chat!!