Some stories grip you and refuse to let go all the way until there are no more pages to flip, and even then, as you turn the last one, keep such a firm hold on your heart that you walk around in a daze for an inordinate amount of time after, trying to find someplace to put the story that has so fervently burrowed its way into your mind.
"Beauty is terror. Whatever we call beautiful, we quiver before it."
This review is going to be spoiler free until the very end, so even if you haven't read this book yet you'll be all good to read this review. The spoiler section at the end will be marked so you don't read it on accident.
Safe to say, I love this book more than I love almost anything else, and if I could I'd give it a hundred stars.
Rating: ☆☆☆☆☆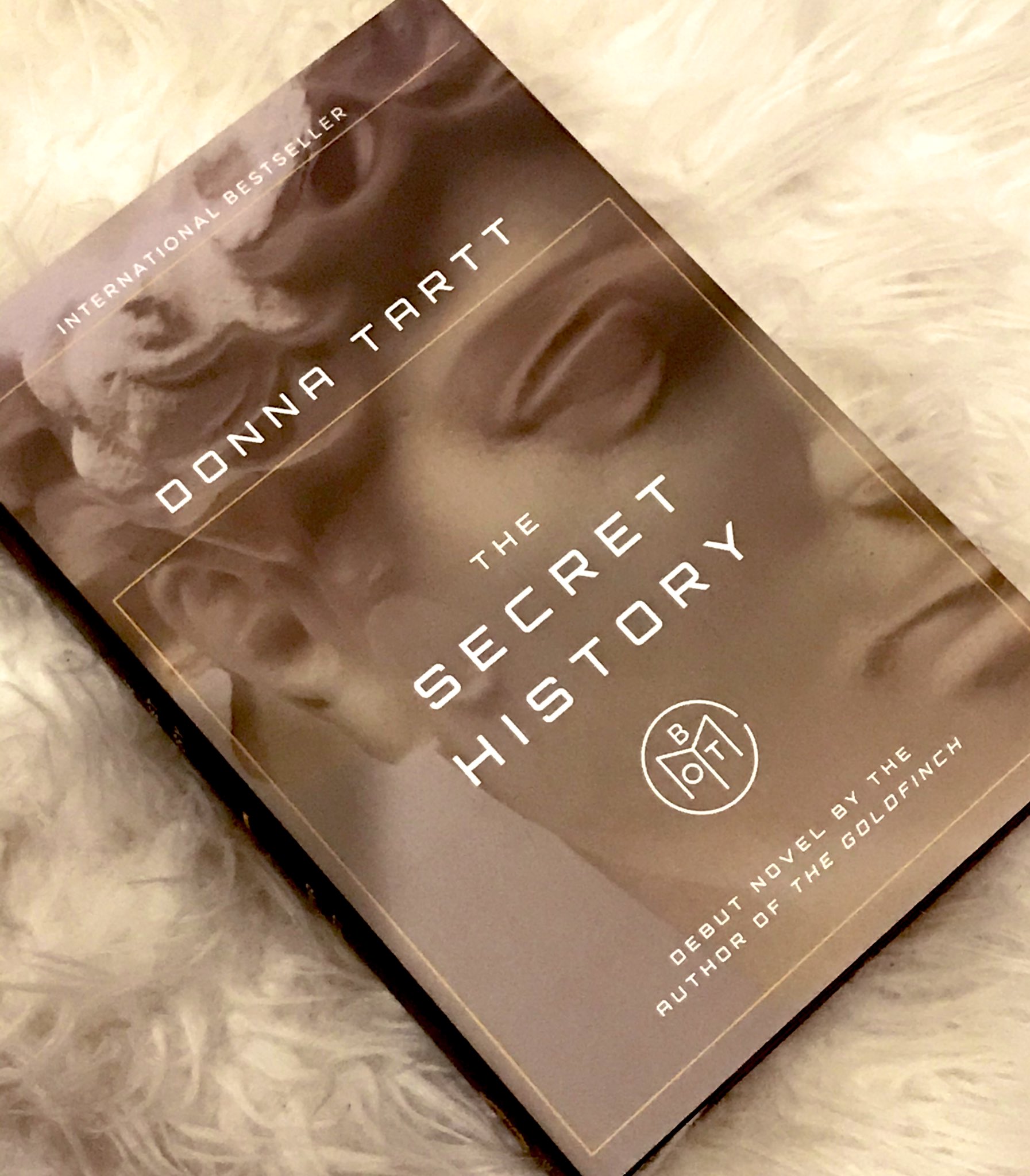 Title: The Secret History
Author(s): Donna Tartt
Published: (first published September 1992)
Genre(s): literary fiction, adult, mystery (and yes, dark academia, though it's not really a genre)
Read as: Physical copy
(Synopsis from Goodreads)
Under the influence of their charismatic classics professor, a group of clever, eccentric misfits at an elite New England college discover a way of thinking and living that is a world away from the humdrum existence of their contemporaries. But when they go beyond the boundaries of normal morality they slip gradually from obsession to corruption and betrayal, and at last – inexorably – into evil.
Review
When I finished this book, it felt like a piece of me was missing.
It is truly difficult to explain all the ways that this book made me feel, but I'll do my very best, though I know I'll never be able to put it into words, so right off the bat I've got to recommend that you just read it. Seriously, this is not a book that you want to go your life without picking up. If you ever take a recommendation from me, let it be this one.
The narrator of this story is Richard Papen, who transfers to Hampden College in New England. Interested in studying Greek, he joins a small, exclusive group of students, taught by their charismatic classics professor. From the first page, we are told that a murder has occurred, and we follow this group as Richard talks us through the circumstances that lead up to this terrible act, and the scintillating events that follow.
My initial urge is to just write out how much this book means to me, but I'm going to try and begin with the objective first:
The Writing.
Oh, god, the writing. Exquisite. Vibrant. Lyrical and immersive. Like nothing — and trust me on this — like nothing you have ever read before. Tartt makes you feel like you're at Hampden College, watching the leaves turn.
There is a scene (more than a scene, really. It's a considerable portion of the novel) where the protagonist, scratch that, the narrator, is explaining the winter he experiences while in Vermont. Tartt's writing is so vivid I swear I could feel the tip of my nose growing cold.
"Does such a thing as 'the fatal flaw,' that showy dark crack running down the middle of a life, exist outside literature? I used to think it didn't. Now I think it does. And I think that mine is this: a morbid longing for the picturesque at all costs."
The Characters.
You'll love them and you'll hate them, and maybe — for a little while at least — you'll want to be them. It's a beautiful thing really, reading characters that are so vibrant and layered they seem to float off the page and be stood right before you.
Henry Winter. A man after my own heart. I'll have to save most of my thoughts for the spoiler section at the end, but he is enough of a reason all on his own to read this book. He's tall and rich and brilliant and mysterious and AHHH.
Anyway. I digress.
The Setting.
It was extremely well fleshed out, atmospheric and explained in rich detail. Hampden College is a university near Vermont, and though it is full of students, we mainly follow a small group of them (the few instances when outside characters are thrown in are always a pleasant treat). The setting (weather in particular) itself plays quite a role in the story, though I won't say more than that.
Reading this book is akin to what I imagine Richard might have experienced once joined up with Julian and his students; much like he felt separated from the rest of campus, the moments spent indulged in the story make a reader feel as though closed off to the rest of the world—all that exists for that time is the ink on the pages and the story unfurling before you—it's easy to get lost and feel that sort of startling rip-out-of-time when you finish after hours of reading and look up to find that you are, in fact, not in Hampden, but in your own home.
And then, of course, the murder. It's not exactly unexpected, since we begin the novel knowing that one of them is going to die. In fact, the first page is the actual day of the murder. I actually picked up this book not knowing who was going to die, and then not registering who the character was until the second or third time their death was mentioned. Anyway, the events that lead up to this moment are…interesting, to say the least.
Ah, my favorite part of a dark academia, the psychological torture.
I loved it so much because I read a lot of fantasy, where often the world are brutal and people are killed in droves. But here there is one murder which is torturous. It haunts the characters and keeps them awake at night, and most if not all of the conflict is contained within their own heads. The weight of one death is SO heavy, and the explorations of the implications of a single life being taken are made to be astronomical in the most brilliant and dazzling way.
Final Thoughts
This is the kind of book that reminds me why I read. I went into it not knowing a single thing other than there was a character named Henry Winter. I didn't know who would be dead, I didn't even know someone would die. I bought it on a whim, and oh my god am I glad I did.
It is unimaginable that anyone could consume this novel and not feel entirely and unequivocally overcome with the need to consider every circumstance the characters are faced with, and dwell over what they would do in such a situation. Ever since I first opened this book and read the opening line I've been hooked. It's taken over my thoughts for weeks, and I honestly don't think it's going to be leaving my mind anytime soon.
I will never again read another book that is quite like the Secret History, and knowing that the most profound and incredible reading experience of my life has come and gone is a special sort of sadness.
Okay, now for the spoilers. If you have not yet read this book, go and read it!!! Trust me, you want to. And then come back and we can talk about it, because I don't think I could ever tire of discussing this book.
Spoilers!!!
At the beginning of part two, I just felt this strange weight in my stomach as the thought continuously reverberated through my head : how could they have done that? It is even more unbelievable and stunning due to the fact that the act itself is not described right then, but rather the aftermath, and you kind of just sit there in a daze as you try to digest what the hell you have just read, as if it's you sitting in that car as Henry drives you home after you have all just witnessed the murder of your friend.
Surprising myself, I teared up at Bunny's funeral. I feel like that's when it really hits the reader too, how evil and terrible of an act it is, this wicked thing that they have done. You don't really consider their outside lives, but then when something happens like Bunny's parents showing up for the search, you think: oh, of course there are other people who are going to be affected and hurt by this.
Such thoughts are echoed by Richard; he mentions more than once how affected he is when it dawns on him that he will never see Bunny again. He talks about wishing he would walk through the door. That shit hurts lol.
I'm trying to keep myself from typing a dozen paragraphs about Henry Winter, so I'll just say this: he is the best. I love him and his gardening clothes and his Lucky Strike cigarettes and his dark suits and his BMW and his Madame Isaac Pereire roses and his spectacles and his intellect.
The end of chapter eight… yeah, that was rough for me. But (after hours of over-the-phone socratic seminar-like discussion with my friends who were also in a state of mourning after that event) I do understand why things happened the way they did.
ANYWAY, this is getting long and ramble-y, so I shall bring this to a close.
I'm hoping (though I have my doubts about this theory of mine) that now I've posted this review I can finally move on with my life. I think about this book so frequently it's honestly a little embarrassing.
Hope you liked this review, and thank you so much for reading!! I really hope that you pick up this book, and if you've already read it, please let me know!
Have you ever read The Secret History, or perhaps Tartt's other works? What is the best book you've read so far this year, and have you found any new all-time favorites in the past couple months? Let me know and let's chat in the comments! Happy Reading!!